Happy Monday my friends.It was an extremely tough week for our family last week and by the weekend, I was feeling completly drained. Last night, there was finally a quiet pocket of time when I wasn't needed and so I treated myself to a few of the new mermaid stamps from Sweet November Stamps. Amy is one of my all-time favorite artists and I am so happy that she has started up a digital store!
I picked this one: Coral Reefwater and Moki to start with. I also used the free digital image Mermaid Rock and they work perfectly together. Before I started coloring, I could picture her sitting on top of some rocks in the ocean just at the beautiful time in the early morning when the sky is stunningly full of light and color. I am a night owl and so I rarely see the dawn, but when I do, I am always so amazed and feel so peaceful.
I sized my image to fit an A2 sized card (4.25" x 5.5") and printed it off onto some Neenah Cardstock. I then used an embarassingly large number of copic markers to color the scene in! It was very therapeutic and calming and I enjoyed the whole process immensely.
Copic Markers Used:
Skin: E50, E00, E11, E13, R02
Hair: Y21, Y23, Y26, Y28
Eyes: BG15, BG10
Coral Crown: YR01, YR15, RV11, RV14
Top: YR01, YR15, YR16, YR18
Tail: BV000, BV00, BV01, BV02, YG00, YG91
Sky: Y000, YR01, BV000, B0000
Water: Y000, BG10, BG11, BG15
Large rocks: Y000, C00, C1, C3, C5
Small rocks: Y000, YG00, YG91, YG93
I also used a White Posca Pen to add white detail to her eyes as well as the ocean.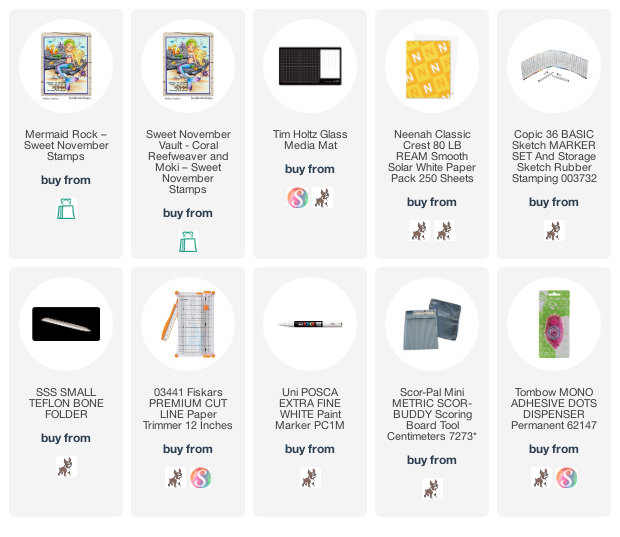 Thanks for stopping by. I hope that you check out Amy's new store:
Sweet November Stamps.
I am sure you will fall in love, if you already don't know her work.
Hugs Jeanette xo