Happy Saturday Everyone! I hope you are all staying warm. It is pretty cold over here and I know that most of you have had a whole lot more snow and cold weather than you are used to. Still, it gives us an excuse to stay in and stamp!
The new Whiff of Joy release "Happy Mail" is now available to purchase! I am sure they are going to go fast so don't wait too long! You can see my cards using the new stamps here and here and more in the WOJ gallery here.
I have my card for this week's Sketch Saturday to show you. As per usual Jo has come up with another amazing sketch for us all to use. I don't know how she does it, but I am glad she does!
Our sponsor this week is: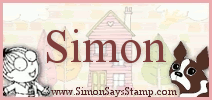 This beautiful Whiff of Joy image is definitely one of my all-time favorites! Can you believe that the whole image is colored with Twinkling H20's? I usually use them to accent my shading AFTER I have colored with either Copic  Markers or Prismacolor pencils but my dear friend Katharina posted an amazing coloring tutorial which you can find -->here<— and she shows you how to color an image entirely with these magical little pots of color. So I thought I would give it a try. Katharina is now selling Twinkling H20s at her WOJ online store so I was able to add on to the few H20s that I already had and here you can see the result.
Here is the list of Twinkling H20s that I used to color:
Skin ~ Almond Beige, Natural Linen, Poppy Red

Hair & Pants ~ Almond Beige, Chestnut Brown, Burnt Umber

Shirt ~ Pink Cloud, Fuzzy peach, Playful Peony

Apron ~ Pale Porcelain, Burnt Umber

Stool ~  Pale Porcelain, Burnt Umber, Chestnut Brown

Background ~ Hunter Gray
Thanks for stopping by and I hope that you can join in the SS Challenge this week! Here is the sketch and please go see all the gorgeous cards that my fellow DT sisters have made to inspire you! You will find them at the Sketch Saturday blog!
I will be back tomorrow with my card for the High Hopes Challenge. Enjoy your day!