I am so excited to share this news with you! Wags 'n Whiskers will be releasing their Springtime stamps on February 12th but you don't have to wait that long to see the stamps!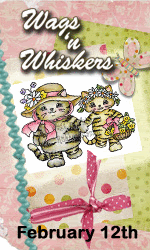 The sneak peeks will begin on tomorrow (Wednesday Feb 10th) on the Design Team Blogs:
Chris, Inge,  Jacqui,  Karen, Lacey, Michelle, Nikki,  Sharon, Tina
The sneak peeks will continue on Thursday then on Friday will be a blog hop AND the release!!
Are you ready for some candy?!
One lucky person will win the FULL RELEASE!! And it's a big one - 13 images total!!
In order to be entered into the drawing for the full release, you must grab this blinkie and post it on your blog in your sidebar linking it to the Wags 'n Whiskers Blog. The you need to leave a comment -->here<--.
The winner will be announced on Monday morning after the blog hop ends.
So I have been working hard getting my sneak peeks ready to show you all. I can't wait!