Please see the post below for my Wags'nWhiskers Blog Hop & Candy Post 
Another post for me today! I am in a stamper's heaven these days with so much gorgeous rubber around! This is my card for this week's Friday Sketchers which is being hosted my the incredible Bea. Her sketch is fantastic and got me out of my rut of making square cards! Thanks sweetie!
I thought that this new Whiff of Joy stamp would be perfect for the sketch. I made the card so that it would fit into a business sized envelope. My son was so funny when he saw it. He was very concerned because some of the paper was torn! He looked very skeptical when I told him that it was supposed to be like that! So much for my attempt at a distressed look!
Stamps: Whiff of Joy: Lizzie with Licorice
Ink: Memento Tuxedo Black
Paper: SU! Red Riding Hood, Making Memories Glitter Red
Coloring: Copic Markers
Embellies: SU Ribbon
I hope that you get a chance to try Bea's wonderful sketch. We have a wonderful $25 gift voucher from Simon Says Stamp for one of our lucky participants.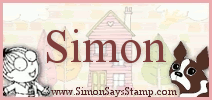 Please see the FS blog to see the gorgeous cards made by my wonderful DT sisters! They are amazing! And if you have time, visit their blogs and give them some love!
Had to show you a little close up of sweet Lizzie. Don't you just love her hair? I will be back tomorrow with another WoJ card…..featuring Henry!