Happy Tuesday! Hope you had a great week-end and for my dear Canadian friends, I hope you had a great Thanksgiving! We went to my sister's place this year as our kitchen reno is still on-going! The end is in sight and the cabinets start to go in today! I cannot wait to see it all come together. The planning has been going on for so long!
Today's project is actually connected to our renovation! The state of my recipe collecion was dire. It was just one of those things that I never got the chance to really organize to work functionally for me. I decided that during the reno would be the perfect time to tackle this project. Lately, all my new recipes are found on Pinterest but I have so many that just aren't there. My Mum's recipes, my Dad's and some that were given to my as a newly we by older co-workers. Those are really my staple recipes and ones that I want to hand down to my kids. I have formatted them all the same way and added little pieces of advice – things that I do when making the recipes.
Whilst I was shopping for school supplies for my boys, I happened to see these gorgeous binders from Avery. They were perfect for what I planned to do. They were flexible, they came in a 1-inch size (I wanted to split my recipes into 3 binders) and they had a insert sleeve in the front so that I could create my own original cover. The bonus was that there was a gorgeous damsk design on the back, spine and front (minus the window) AND they came in 3 different shades!
I pretty well didn't even consider what I would use to create the cover pages. It was always going to be Elizabeth Bell images. Now that many of her designs are available as digital images, I would be able to create covers that were to scale with my binders. Here are the binders and following the images there is a video sharing my thought process as well as the coloration of one of the images!
Here is the insert that I colored in my video, before putting it in the binder. Isn't she sweet?
Here it is once slipped into the front binder cover. This is the blue damask design and holds all my baking recipes.
Here is the grey damask that housed my recipes for soups, salads, pastas and drinks:
and here is the black damask where I have recipes for mains and sides:
Video Tutorial:
Click HERE to view in HD format
Supplies: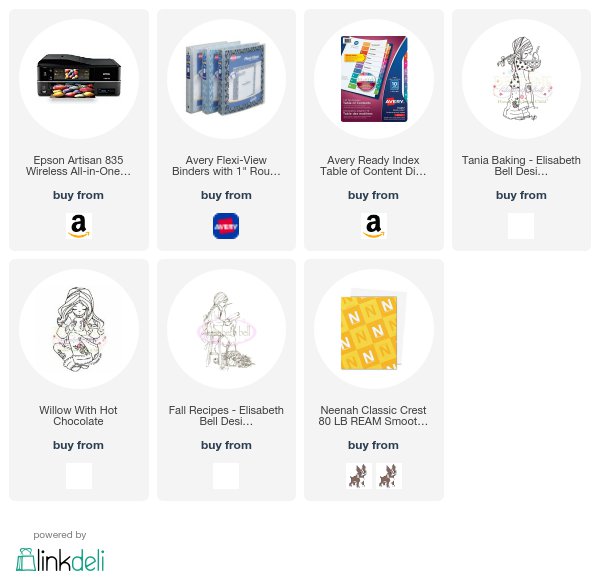 Vintage Woods Digital Paper Pack
Copic Markers Used :
Skin : E0000, E000, E00, E11, E04, R20, R30
Hair : E42, YR30, E43, YR21, E44
Blouse: YG61, BG90, YG63
Pants & Hair Tie: BG72, BG90, BG10, BG75
Apron: C1, C3, C00, 0
Stick: E42, E43, E44
Red: R17, R32, R37
Thanks for stopping by!
Hugs Jeanette xxo