Happy Sunday! I am here with my Sketch Saturday card. I used the new digital images from Motivet stamps.
Isn't this background gorgeous? After coloring it up I added a ton of stickles to the snowy areas. I thought that these caroling kittens were perfect to add to the scene!
The paper is once again pieces from my scrap drawer. These ones were part of an old Cosmo Cricket pad.
Motivet also has amazing digital personalized stamps! I forgot to photograph mine on the back of this card but here are a few samples:
Aren't these amazing?
Thanks for stopping by and heartfelt wishes for a wonderful Thanksgiving to all my Canadian friends! I have a lot of cooking prep to do today so that tomorrow I will have more time to spend with the family! Of course we will be having roasted turkey and stuffing with yummy mashed potatoes and gravy! I also will be serving a baked cauliflower dish, fresh corn and home-made dinner rolls. The rolls I will make today along with a pumpkin pie and an apple pie! Yummy!
Before I forget, Sketch Saturday is generously being hosted by: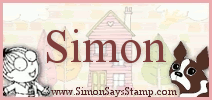 I hope you will find the time to play along!