Happy Saturday! Yippee! It is the week-end! What do you have planned for your-selves? My son has a small little do at the Nautical Center at 11am. He has passed another level in his sailing courses and will be getting his certificate! Then we are going into Montreal to see the Narnia Exhibit. I can't wait. That series of books was my favorite when I was growing up and I have read the whole lot to my kids. In fact I am starting up again (round 2) with my last son. We loved the two movies that came out and I can't wait for the next one! After that we plan to go to a wonderful outdoor market and buy yummy fresh produce! They have so much there and the kids love to visit too!
Today I have my card for this week's Sketch Saturday to show you and I want to welcome the three new members to our team! All very talented ladies and a wonderful addition to our team! Please head over to see who they are AND droll over all the DT's creations!
I used one of the Magnolia images from their 2010 Summer kit and paired it up with some of their yummy paper. The anchor charms have been in my stash for awhile so I can't tell you where I got them. I was just happy that I had a pair of them! LOL! They are tied with some linen thread from SU! The sentiment is from a Paptertrey set: Out on a Limb.
I hope you can join in the Sketch Saturday challenge this week. As you can see, the sketch is fabulous and so is our wonderful regular sponsor this week: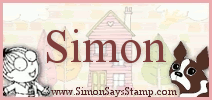 Thanks again for stopping by! Have a great day!